Steward Medical Group Welcomes Ravi Patel, MD, Family Medicine Physician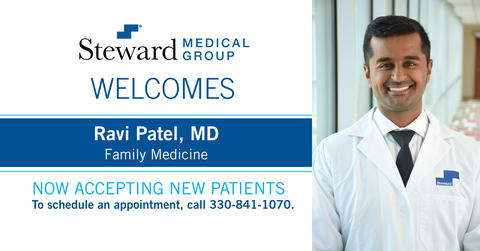 The addition of Dr. Patel increases access to exceptional primary care to the community.
Trumbull Regional Medical Center and Steward Medical Group are pleased to welcome Dr. Ravi Patel to Steward Primary Care, Cortland, located at 2668 Elm Road, Building C in Cortland.
A member of the American Academy of Family Physicians, Dr. Patel's clinical interests include pediatrics, women's health and gynecology, and knee and shoulder injections for joint pain.
"We are proud to have Dr. Patel join the Steward Medical Group team and the Medical Staff at Trumbull Regional Medical Center," said Cindy Russo, President at Trumbull Regional Medical Center. "The community will benefit from his expertise and increased access to exceptional primary care. In addition to seeing patients in Cortland, Dr. Patel also joined the faculty of our Family Medicine Residency Program through Western Reserve Health Education, where he will teach family medicine residents in the same program he graduated from not long ago."
Dr. Patel earned his medical degree from Ross University School of Medicine and his undergrad from The Ohio State University, where he served as a post-doctoral researcher. Dr. Patel completed a Family Medicine Residency with Western Reserve Health Education at Trumbull Regional Medical Center.
"I am thrilled to join the Steward Medical Group family at Trumbull Regional Medical Center and provide high-quality, personalized primary care to the community" said Dr. Ravi Patel. "Having a primary care physician is very important. We help keep patients healthy which lowers medical costs, treat patients when they are sick, and help them get specialized care when needed. I look forward to continuing to serve the community."
DIRECTORY
Ravi Patel, MD, is accepting new patients at the following location:
Steward Primary Care, Cortland
2668 Elm Road, Building C
Cortland, OH 44410
Phone: 330-841-1070
Fax: 330-841-7088