Steward Medical Group Welcomes Pablo Giuseppucci, MD, Robotic-Trained General Surgeon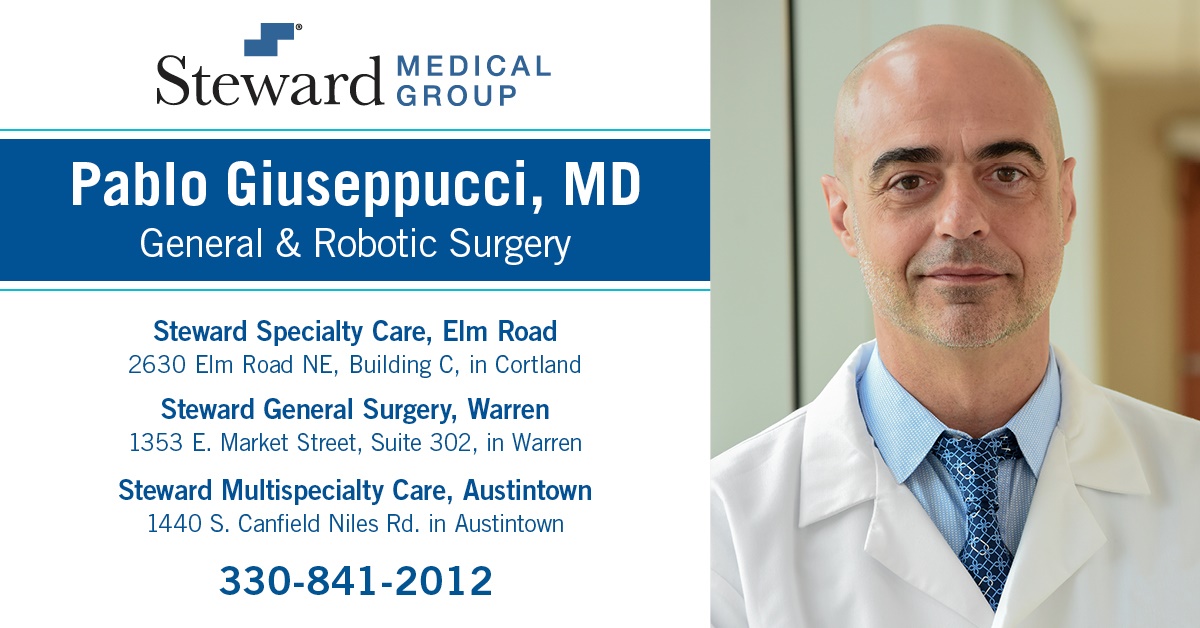 The addition of Dr. Giuseppucci increases access to exceptional surgical and robotic services in the Valley.
Trumbull Regional Medical Center and Steward Medical Group are pleased to welcome Dr. Pablo Giuseppucci to Steward Specialty Care, Elm Road located at 2630 Elm Road NE, Building C in Cortland, Steward Specialty Care, Trumbull located at 1353 E. Market Street, Suite 302 in Warren and Steward Multispecialty Care, Mahoning County located at 1440 S. Canfield Niles Road in Austintown.  
With over 20 years of experience, Dr. Giuseppucci is board-certified in General Surgery and has a robust clinic interest in robotic and minimally invasive surgery, oncological surgery, upper GI surgery, and abdomen wall surgery.
"We are proud to have Dr. Giuseppucci join the Medical Staff at Trumbull Regional Medical Center" said Krista McFadden, President at Trumbull Regional. "Our patients will benefit from his skills and expertise in general and robotic surgery, as well as his commitment to providing care to the community" said McFadden.
Dr. Giuseppucci earned his medical degree from Universidad de Buenos Aires in Argentina and completed a General Surgery Residency at Hospital General de Agudos I. Pirovano in Argentina. Dr. Giuseppucci was the Chief Resident from June 1999 to May 2000. While in Argentina he also completed specialized training in minimally invasive surgery, benign and malignant esophago-gastric surgery, and complete abdominal wall reconstruction. He then completed a second residency in General Surgery at Western Penn and Allegheny General Hospital in Pittsburgh, PA.
"I am thrilled to join the Steward Medical Group family at Trumbull Regional Medical Center and provide personalized, high-quality general and robotic surgical services to the Mahoning Valley" said Dr. Giuseppucci. "At Trumbull Regional, we provide innovative robotic technology which is essentially minimally invasive surgery performed through small incisions with very small instruments that are an extension of the surgeon's hands. Robotic surgery has many patient benefits, and I am excited to provide these services to the community" said Giuseppucci. 
DIRECTORY
Pablo Giuseppucci, MD, is accepting new patients at the following locations:
Steward Specialty Care, Elm Road
2630 Elm Road NE, Building C
Cortland, OH 44410
Steward Specialty Care, Trumbull
1353 E. Market Street, Suite 302
Warren, OH 44483
Steward Multispecialty Care, Mahoning County
1440 S. Canfield Niles Road
Austintown, OH 44515
Phone: 330-841-2012
Fax: 330-841-2016