Trumbull Regional Medical Center and Steward Medical Group Welcome Meredythe McNally, MD, Gastroenterologist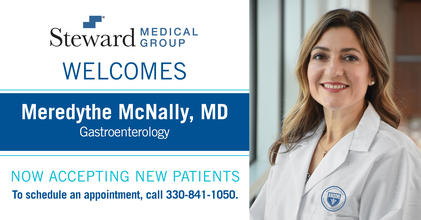 The addition of Dr. McNally increases access to exceptional care in the Mahoning Valley.
Trumbull Regional Medical Center and Steward Medical Group are pleased to welcome Dr. Meredythe McNally, Gastroenterologist, to Steward Multispecialty Care, Trumbull located at 1353 E. Market Street, Suite 301 in Warren, Steward Multispecialty Care, Austintown, located at 1440 S. Canfield Niles Road in Austintown and Steward Gastroenterology, Elm Road located at 2658 Elm Road NE, Building C in Cortland.   
Dr. McNally is board-certified in Gastroenterology and has a robust clinical interest in Inflammatory Bowel Disease, Celiac Disease and Gastroesophageal Reflux Disease (GERD).  
"We are proud to have Dr. McNally join our care team at Steward Medical Group," said Michael Callum, MD, president of Steward Medical Group. "Our patients will benefit from Dr. McNally's skills and expertise, as well as her commitment to providing care to the community."
Dr. McNally earned her medical degree from Northeastern Ohio Universities College of Medicine (NEOUCOM), now known as Northeast Ohio Medical University (NEOMED) in Rootstown, Ohio. She then completed an Internal Medicine Residency as well as her Gastroenterology and Hepatology Fellowship at the Mayo Clinic College of Medicine in Rochester, MN.
"I am thrilled to join the highly-skilled team at Trumbull Regional Medical Center and provide personalized, high-quality GI care to the Mahoning Valley" said Dr. McNally. "The gut is one of the main regulatory systems in the body, so it's extremely important to keep it healthy and seek medical care for any issues you may be experiencing."
Appointments can be made by calling the practice at 330-841-1050 or online at providers.steward.org.  
DIRECTORY
Dr. Meredythe McNally is now accepting new patients at the following locations:
Steward Multispecialty Care, Trumbull
1353 E. Market Street, Suite 301
Warren, OH 44483
Steward Multispecialty Care, Austintown
1440 S. Canfield Niles Road
Austintown, OH 44515
Steward Gastroenterology, Elm Road
2658 Elm Road NE, Building C
Cortland, OH 44410
Phone: 330-841-1050