Trumbull Regional Medical Center and Steward Medical Group Welcome Saad Hatahet, MD, Urologist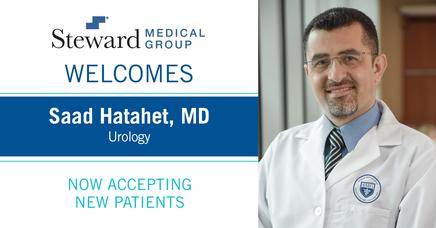 The addition of Dr. Hatahet increases access to exceptional urological care in the Mahoning Valley.
Trumbull Regional Medical Center and Steward Medical Group are pleased to welcome Dr. Saad Hatahet, Urologist, to Steward Multispecialty Care, Trumbull located at 1353 E. Market Street, Suite 301 in Warren.  
Dr. Hatahet has robust clinical interest in benign prostate problems; early detection and treatment of prostate cancer; kidney and bladder malignancies; kidney, ureter and bladder stones; voiding dysfunction including overactive bladder and incontinence; erectile dysfunction; urinary tract infections (UTI) and hematuria workup.
Dr. Hatahet completed fellowships in Robotic and Laparoscopic Urologic Oncology and Endourology at St. Elizabeth's Medical Center (Tufts Medical Center) in Boston, MA, and another fellowship in Clinical Research at The Ohio State University, Wexner Medical Center in Columbus, OH. He earned his medical degree from the University of Damascus Faculty of Medicine in Damascus, Syria. He then completed a residency in General Surgery at Damascus National Hospital and a Urology residency at Ibn Al Nafees Medical Center, The Kidney Surgical Hospital.
"I am thrilled to join the highly-skilled team at Trumbull Regional Medical Center and provide personalized, high-quality urological care to the Mahoning Valley" said Dr. Hatahet. "Urological health is very important, and I am particularly passionate about robotic and oncologic urology. At Trumbull Regional, we offer robotic-assisted urological procedures, so that patients have a quicker recovery time and are able to get back to doing what they love faster."
Appointments can be made by calling the practice at 330-841-9020.  
DIRECTORY
Dr. Saad Hatahet is now accepting new patients at the following location:
Steward Multispecialty Care, Trumbull
1353 E. Market Street, Suite 301
Warren, OH 44483
Phone: 330-841-9020