Trumbull Regional Medical Center and Steward Medical Group Welcome Mboutidem Etokakpan, MD, General Surgeon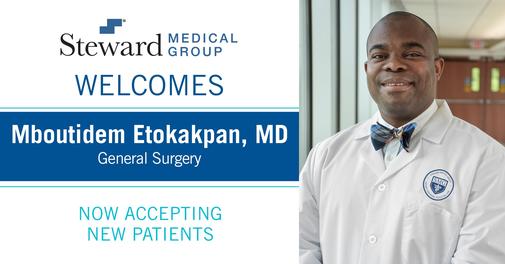 The addition of Dr. Etokakpan increases access to exceptional surgical care in the Mahoning Valley.
Trumbull Regional Medical Center and Steward Medical Group are pleased to welcome Dr. Mboutidem Etokakpan, General Surgeon, to Steward Specialty Care, Trumbull located at 1353 E. Market Street, Suite 302 in Warren.  
Dr. Etokakpan is board-certified in General Surgery and has a robust clinical interest in complex abdominal hernia reconstruction and robotic surgery.  
Dr. Etokakpan earned his medical degree from Albany Medical College in Albany, New York. He then completed General Surgery residencies at Lincoln Mental and Medical Center in the Bronx and Geisinger Medical Center in Danville, Pennsylvania.  
"I am thrilled to join the highly-skilled team at Trumbull Regional Medical Center and provide personalized, high-quality surgical care to the Mahoning Valley" said Dr. Etokakpan. "I am particularly passionate about robotic surgery and the many benefits of performing a procedure robotically, including smaller incisions and shorter recovery times. I think it's important for the community to know that they do not have to travel far for innovative robotic technology, it's available right here at Trumbull Regional."
Appointments can be made by calling the practice at 330-841-7130 or online at https://providers.steward.org/search.  
DIRECTORY
Dr. Mboutidem Etokakpan is now accepting new patients at the following location:
Steward Specialty Care, Trumbull
1353 E. Market Street, Suite 302
Warren, OH 44483
Phone: 330-841-7130