Trumbull Regional Medical Center Welcomes Steven Hand, DO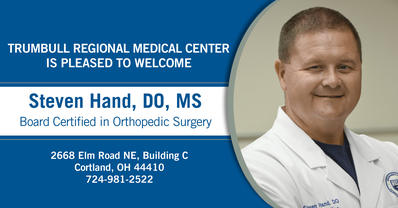 The addition of Dr. Hand increases access to exceptional orthopedic care in the Mahoning Valley.
 
Trumbull Regional Medical Center is pleased to welcome Steven Hand, DO, MS. Dr. Hand is board-certified in Orthopedic Surgery and has clinical interest in shoulder, knee and hip replacement surgery, hip and knee replacement revisions, general fracture surgery, sports medicine and hand surgery. The addition of Dr. Hand enhances high-quality orthopedic care to the Mahoning Valley.
Dr. Hand has practiced medicine for nearly 20 years primarily in the Lawrence County area. He earned his medical degree from Pikeville College School of Osteopathic Medicine in Pikeville, Kentucky, completed a residency in general surgery at the University of Pittsburgh Medical Center Horizon in Farrell, Pennsylvania and a residency in orthopedic surgery at Millcreek Community Hospital in Erie, Pennsylvania. He also completed a fellowship in total joint reconstruction/adult reconstruction at the Cleveland Clinic in Cleveland, Ohio.
"We are proud to have Dr. Hand join our care team at Trumbull Regional Medical Center," said Krista McFadden, MSN, RN, President at Trumbull Regional Medical Center. "Dr. Hand is an experienced and skilled orthopedic surgeon and our patients will benefit from his expertise."
Dr. Hand joined Steward Medical Group and the Medical Staff at Sharon Regional Medical Center in January 2019 and has expanded to Ohio as of Thursday, May 28. He will see patients at Steward Primary Care, Cortland, located at 2668 Elm Road NE, Building C in Cortland. He will also continue to see patients at Steward Medical Group Orthopedic Specialists located at 2395 Garden Way in Hermitage. For more information or to schedule an appointment, call 724-981-2522.
Steward Medical Group is a dynamic and growing physician-led multispecialty practice group that is a key part of Steward Health Care—the largest private, tax-paying hospital operator in the United States. The medical group operates practices in 11 states, with both primary care and specialties ranging from Women's Health to Advanced Cardiac Surgery.
Steward's footprint in Ohio includes many unique medical practices with care ranging from primary care and women's health to orthopedics and other specialty services.
Trumbull Regional offers patients many nationally recognized services and the hospital's Center for Joint Replacement was the first program in Ohio to receive Advanced Certification for Total Hip and Total Knee replacement by The Joint Commission. In 2018, the hospital became the first in Trumbull County to offer Mako Robotic-Arm assisted technology for partial knee and total hip and knee replacement surgery. Its heart care program is nationally recognized and is the only accredited chest pain center in the Mahoning Valley. In addition, the diabetes program is one of only 85 in the United States and the only facility in the Mahoning Valley to earn The Joint Commission's Advanced Certification for the Inpatient Diabetes Program.
For a complete listing of all the medical services offered at Trumbull Regional, visit trumbullregional.org.
DIRECTORY
Dr. Steven Hand is now accepting new patients at the following locations:
Steward Primary Care, Cortland
2668 Elm Road NE, Building C
Cortland, OH 44410
                                 
Steward Medical Group Orthopedic Specialists
2395 Garden Way
Hermitage, PA 16148
Phone: 724-981-2522