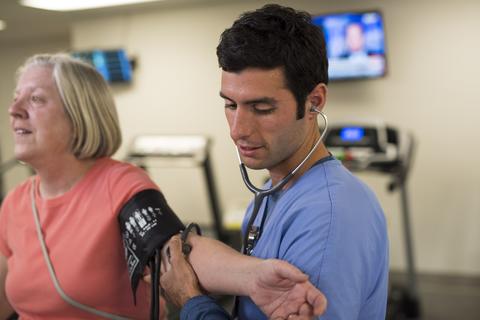 Heart Month Staff Spotlight
Meet Matt Halula, Clinical Exercise Physiologist, Cardiac Rehabilitation Program
 
How long have you been at TRMC?
I've been at Trumbull Regional Medical Center for almost three-in-a half years.
 
Where did you attend school?
I earned a BSAS in Exercise Science from Youngstown State University. I also hold Certified Clinical Exercise Physiologist (CEP) certification.
What inspired you to get into this field?
It's funny, I've always been an exercise enthusiast; however, while I was in college, I didn't know a field like this existed initially. I eventually started going through the exercise science program, learned about the different career opportunities and once I completed my internship in cardiac rehab, that was it. I knew what I wanted to do.
 
What are some of your responsibilities as a clinical exercise physiologist?
The Cardiac Rehabilitation Program is broken down into three phases, all of which I have a major role in daily. The three phases include: Inpatient Rehabilitation and Education, Outpatient Rehabilitation and Education, and Cardiac Wellness.
In Phase 1, which is an inpatient program, I work to gradually increase activity level to build endurance. This is done by combining progressive, monitored activity and education. Phase II consists of outpatient rehab, the biggest component of cardiac rehab.  Here, I help patients improve physical work capacity through an individualized exercise program, as well as provide education to control risk factors.
The final phase is more of an open-gym setting where I supervise the patients, make sure equipment is being used properly, answer questions, do evaluations – essentially making sure patients are continuing with the progress made to improve independence.
 
What are some highlights from your career?
To be able to get through to a patient and witness them making a difference in their lifestyle and see those results is so rewarding. There was one patient that was completely unmotivated. Over time, he started to buy in to the program and made a complete change. He came in about a year later, having lost 100 pounds, leading a much healthier, happier life. Seeing that side of it is what I cherish the most.
 
What do you like to do for fun?
Golfing and snowboarding are two things I really enjoy doing.
 
What's something people don't know about you?
Wow, I'm pretty much an open book. I will say that I love the snow, which may seem a little strange, but I do. I welcome it.
 
What do you like most about working in the Cardiac Rehab Program at TRMC?
The patients and my coworkers. To have such a great combination of the two is truly a blessing. I don't view it as work; it's fun coming in everyday and getting the opportunity to do what I do and interact with such great people.