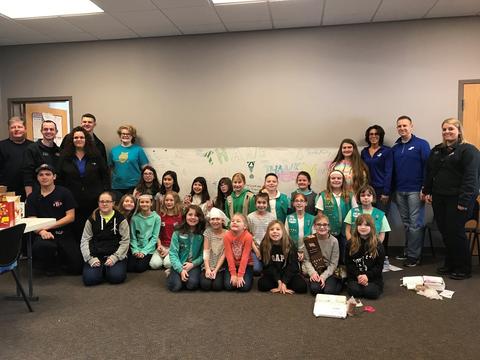 The Girl Scouts of North East Ohio (GSNEO) Troop 80814 organized a First Aid Day at the Bristol Fire Department on Saturday, Feb. 9, to benefit their Service Unit 805, covering Western Trumbull County.
The objective was to help the girl scouts of various ages achieve their first aid badges and pins. The event was a success. Twenty-four girls earned their badges and pins, with some help from Trumbull Regional Medical Center and local firefighters.
First Aid Day presented an opportunity for GSNEO Service Unit 805 to learn first aid skills and earn badges and pins. A set of stations was created and staffed using local firefighters and Trumbull Regional nurses to help teach the girls how to perform various tasks during an emergency.
Tasks consisted of how to call 911 with role play, how to help when someone is choking, how to use the items in a first aid kit, how to build a first aid kit, what to do when help is far away, how to manage common illnesses, and how to recognize dangerous plants and bugs.
A tour of the Bristol Fire Department was also included. Using donations from GSNEO Service Unit 805 and Trumbull Regional, the girls were able to build 40 first aid kits. The kits include first aid supplies for wound care and infection prevention which will be donated to areas of need in Trumbull County.