Wound Care & Hyperbaric Medicine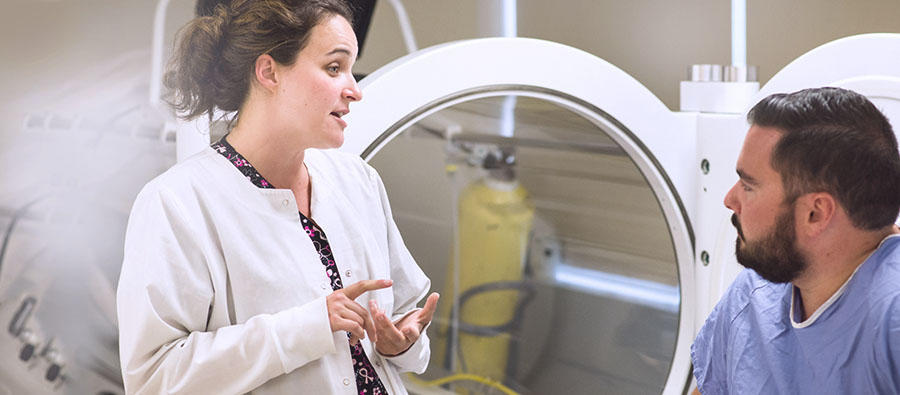 We are here to help you find what you need.
Non-healing wounds are just wounds that have not healed yet...but they will.
We offer specialized, outpatient care for non-healing wounds, including negative pressure wound therapy, bioengineered tissues, biosynthetic dressings, growth factor therapies and hyperbaric oxygen (HBO) therapy. Our Wound Healing Center was named a 2018 Center of Distinction and 2018 Robert A. Warriner III, M.D., Center of Excellence by Healogics, Inc.  This marked the fourth consecutive year the Wound Healing Center has earned the Center of Distinction award, and third straight year for the Center of Excellence honor. It is the only facility in the area to earn these awards.
Our team of doctors, nurse practitioners and nurses provides the latest treatments available to promote healing of chronic wounds and helps patients recover as quickly as possible. We provide care for:
Bone infections

Diabetic foot and leg wounds

Recurring wounds

Surgical wounds

Ulcers, including ischemic, pressure and venous stasis

Wounds association with radiation therapy

Other conditions such as bites, infections and more
Hyperbaric Oxygen Therapy
Used to enhance healing of wounds, particularly those that are difficult-to-heal or infected. During treatment, a patient lies in a special pressurized chamber of pure oxygen and breathes normally, which increases the amount of oxygen in the blood. Our doctors may use hyperbaric oxygen therapy to treat conditions such as:
Air or gas embolisms

Bone infections

Burns

Crush injuries and other traumatic injuries that compromise blood supply to tissues

Decompression sickness

Gangrene

Poisoning from carbon monoxide or cyanide

Pressure sores

Radiation treatment injuries or thermal burns

Refractory osteomyelitis

Skin grafts

Wounds that have not healed with other therapies, such as diabetic foot ulcers