Trumbull Regional Medical Center and Steward Medical Group Welcome Dr. Shyam Bhakta Interventional and Nuclear Cardiologist
July 31 2020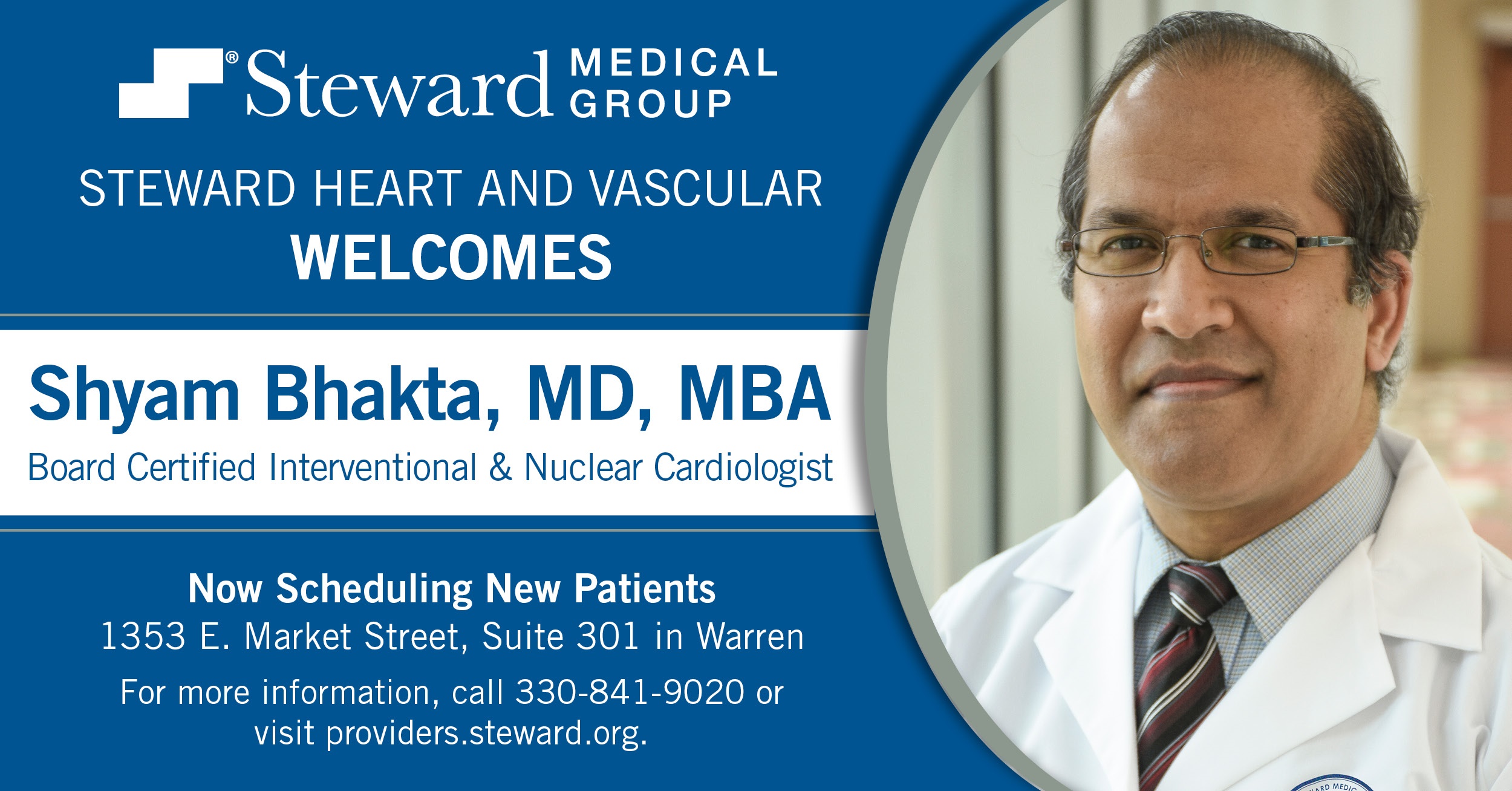 The addition of Dr. Bhakta increases access to exceptional cardiac care in the Mahoning Valley.
Trumbull Regional Medical Center and Steward Medical Group welcome Dr. Shyam Bhakta, Interventional and Nuclear Cardiologist, to Steward Heart and Vascular located at 1353 E. Market Street, Suite 301 in Warren.  
Dr. Bhakta is board-certified in both Interventional and Nuclear Cardiology and has clinical interest in cardiovascular disease, coronary angiography, angioplasty and stent placement, as well as medical management of cardiovascular disease.
Dr. Bhakta earned his medical degree from Wayne State University School of Medicine in Detroit, Michigan, and completed an Internal Medicine residency at University Hospitals in Cleveland. He then completed a fellowship in Cardiovascular Disease at University Hospitals and a fellowship in Interventional Cardiology at University of Colorado Affiliated Hospitals in Denver, Colorado.
"Heart disease is the leading cause of death for men and women in the United States and one person dies every 37 seconds from cardiovascular disease" said Dr. Bhakta. "I am eager to begin providing the advanced cardiac care to the Mahoning Valley and working with the highly-skilled team at the hospital to combat and prevent heart disease."
Appointments can be made by calling the practice at 330-841-9020 or online at https://providers.steward.org/search.  
Trumbull Regional Medical Center is the only accredited Chest Pain Center in the Mahoning Valley. Our heart team is trained to diagnose chest pain quickly and begin treatment as soon as possible to help prevent or eve reverse, muscle damage to the heart. The hospital became the first in Ohio to achieve Chest Pain v5 Accreditation. As an accredited facility, expert care begins the moment someone with chest pain enters the emergency room and continues through diagnosis, treatment, rehabilitation and follow up.