Trumbull Regional Medical Center to host free Living Well with Diabetes Event on Thursday, November 21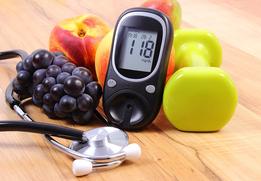 Diabetes affects more than 30.3 million Americans and is a major cause of heart attack, stroke and blindness. Every year, the number of Americans diagnosed with diabetes increases by one to three million and those being diagnosed with pre-diabetes increases by one million.
Diabetes is a growing issue not just nationally, but locally. The Mahoning Valley is considered to fall in the "Diabetes Belt" with over 12% of the population being diagnosed with diabetes.
As a result of this growing issue, Trumbull Regional Medical Center is hosting "Living Well with Diabetes," a free interactive and educational event focused on living with diabetes and pre-diabetes. The event is being held on Thursday, November 21st at 5 p.m. at the Avalon Inn and Resort in the Ballroom.
Trumbull Regional Medical Center's Certified Diabetes Educators, Pam Evans, Registered Dietitian, and Linda Tominey, RN, will speak at the event on topics such as diabetes self-management, diabetes care schedules, healthy eating and meal preparation at 6 p.m., followed by a Q&A session.
Prior to the presentation, attendees will have the opportunity to meet Trumbull Regional staff at informational tables focused on diabetes and free screenings including A1C's, blood pressure, body mass index (BMI), stroke risk assessments and vision screenings will be available. Refreshments will also be provided.
"Diabetes management is critical for those that have diabetes or pre-diabetes," said Linda Tominey, RN, CDE. "Diabetes affects a person's overall health, so it's very important to understand how to best control it in order to prevent other health issues and this event will focus on empowering and educating those living with diabetes," said Tominey.  
The diabetes inpatient program at Trumbull Regional is one of 85 hospitals in the U.S., one of only five hospitals in Ohio and the only hospital in the Mahoning Valley to earn The Joint Commission's Advanced Certification.
For more information or to register for this free event, call 800-974-1489 or visit trumbullregional.org/events.