Mahoning Valley Doctor Make a Big Difference in the Community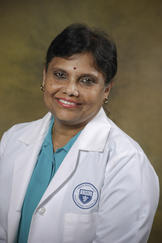 (YOUNGSTOWN, OH - October 16, 2019) S. Lakshmi Perni, MD, has strong ties to the community. Her efforts as a physician and philanthropist have been felt throughout the Mahoning Valley – and beyond.
Now in her 36th year of practice, don't expect that trend to change anytime soon.
As the Director for the Center for Breast Health at Steward Health Center, Austintown, Dr. Perni has saved many lives and formed countless relationships throughout the years.   
"The doctor-patient relationship is the foundation of achieving results. I am able to connect with each patient – listen to their concerns and show compassion. Patients are often scared or uneasy at the time of a visit and that's understandable. It's imperative that patients are at ease. When they express concerns, I calm them down; explain what exactly is occurring, what the necessary steps are, etc. Communication is vital for a patient to receive the best care," she said.
Dr. Perni started her own practice in 1984 on Fifth Avenue in Youngstown. Many of those initial patients still see her today. People come from throughout the Valley and into Pennsylvania just to see her. She credits the ability to relate to each patient as a driving force behind her continued success. 
Dr. Perni, who is also affiliated with Steward Medical Group, is the only female in the Youngstown area with a sole focus on mammography.
 "It's truly a unique service. I am able to dedicate 100 percent of my efforts to strictly mammography. By doing so, I am able to see signs and pick-up symptoms easily," she said.
She recently detected cancer in a patient that measured only 2 millimeters. "Finding any indication early is crucial. If detected early on when the cancer is small and has not spread, it's easier to treat successfully," Dr. Perni said.
Like the patients she treats, her colleagues have a great amount of respect for her. Dr. Perni has been recognized both locally and globally, earning the prestigious Hind Rattan award in her home country of India for her tremendous services and contributions. The Hind Rattan award is one of the highest Indian diasporic awards granted annually to non-resident persons of Indian origin (NRIs) by the NRI Welfare Society of India.
She also earned The American Cancer Society's Cattle Baron's Ball Service award in 2013, recognizing her outstanding efforts throughout her career.
But her efforts extend well past office hours. 
She, along with her husband, Veeraiah, an anesthesiologist and Medical Director of Research at Western Reserve Health Education, are making an impact not just locally, but globally through philanthropic efforts and dedication. Some of their work includes:
Contributing sponsorship to the River Project at OH WOW in downtown Youngstown
Annual contributions to the Liberty in Bloom project - a nonprofit, volunteer organization for the purpose of beautifying the community
Annual contributions to Trumbull County Fairhaven Program
President of the American Physicians of Indian Origin of Northeast Ohio and Western PA (AAPI)
Involvement in a local Hindu Temple (6464 Sodom Hutchings Road in Liberty)
Member of a group that helped launch and open the Comfort Suites in Youngstown (201 Perni Lane) as part of an effort to revitalize the community
Built temples and churches in India
Assist in medical screening camps annually and cataract surgeries
Built bathrooms for students and teachers, provided benches for all classes, gave school bags to all students and a computer to the public school (India)
Provided garbage disposals in villages (India)
Annually participate in a Free Drinking Water project in Idupulapadu, India
"I appreciate where I came from and what the Mahoning Valley has meant to my family and I. Being active in the community and helping people is my passion. I'm blessed to have the opportunity to heal and make a difference in people's lives every day. It's the reason I got into medicine," she said.
Schedule an appointment
The Center for Breast Health at Steward Health Center, Austintown offers screening and diagnostic, breast ultrasound and stereotactic biopsies, ductograms, and breast MRIs. To schedule an appointment with Dr. Perni or for more information, call 330-884-5894. Steward Health Center, Austintown is located at 20 Ohltown Road in Austintown.