Trumbull Regional Medical Center's Pink Ribbon Run/Walk set for Saturday, September 28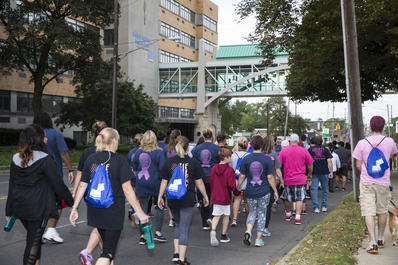 (WARREN – September 25, 2019) Trumbull Regional Medical Center will host its 14th Annual Pink Ribbon Run-Walk on Saturday, September 28. Proceeds from the event will benefit Trumbull County the Silver Lining Cancer Fund.
The community-wide event is designed to raise awareness for breast cancer, prevention, diagnosis and survivorship, as well as encourage health and fitness.
Participants have the option to run or walk the 1 mile or certified 5K course. The race will start at Trumbull Regional Medical Center's Medical Professional Building (1353 East Market Street in Warren) and run through residential areas.
Health information, vendor displays and the opportunity to schedule annual screening mammograms will be available at the event.
Registration/check-in begins at 8 a.m. with the opening ceremony following at 9 a.m. The 5K start is scheduled for 9:15 a.m. and the 1 mile will follow. Prizes will be awarded at the end of the event. 
The entry fee is $15 for early registration and $20 the day of the event.  For more information or to register for the event, call 330-841-9399 or visit gopherarun.com.