Trumbull Regional Medical Center and Steward Medical Group Welcome Cardiothoracic Surgeon Randy K. Metcalf, MD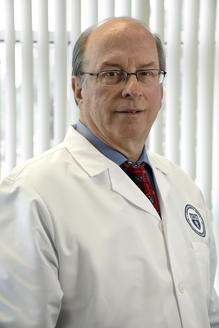 Dr. Metcalf provides expert heart care for patients
(WARREN, OH- August 2, 2019) – Trumbull Regional Medical Center and Steward Medical Group are pleased to welcome board-certified Cardiothoracic Surgeon Randy K. Metcalf, MD, to Steward Health Care System. Dr. Metcalf brings years of clinical experience and enhances the access to care for patients in the community.
A skilled and accomplished cardiothoracic surgeon, Dr. Metcalf's clinical interests include aortic root reconstruction, coronary revascularization and mitral valve repairs. By joining Steward Medical Group, Dr. Metcalf is now affiliated with Trumbull Regional Medical Center in Warren, Ohio and Sharon Regional Medical Center in Sharon, Pennsylvania.
Dr. Metcalf is accepting new patients and has two convenient office locations: 1353 E. Market Street, Suite 301 in Warren. To schedule an appointment at this location, call 330-841-9020. He is also seeing patients at 740 East State Street in Sharon, Pennsylvania. Appointments can be made at this location by calling 724-983-7200.
"The addition of Dr. Metcalf is a testament to our continued commitment of providing excellent care to patients. The community doesn't have to travel far for world class cardiac care," said Ron Bierman, President of Trumbull Regional Medical Center."
Dr. Metcalf completed a Cardiothoracic Surgery Residency at the Cleveland Clinic Foundation in Cleveland, Ohio, a Cardiothoracic Surgery Fellowship at Harvard University/New England Deaconess Hospital in Boston, Massachusetts and a Vascular Surgery Fellowship at the University of Colorado in Denver, Colorado. He is a member of the Society of Thoracic Surgeons, American Medical Association and Pennsylvania Association for Thoracic Surgery. He earned his medical degree from the University of Texas Health Sciences Center in Houston, Texas.
Steward Medical Group is a dynamic and growing physician-led multispecialty practice group that is a key part of Steward Health Care, the largest private hospital operator in the United States. The medical group operates practices in 11 states, with both primary care and specialties ranging from Women's Health to Advanced Cardiac Surgery.
Dr. Metcalf's arrival to the region gives patients even more access to heart care. Steward Health Care hospitals, Trumbull Regional Medical Center and Sharon Regional Medical Center, both offer patients cardiac programs of distinction. Trumbull Regional is the only Accredited Chest Pain Center in the Mahoning Valley and was the first in Ohio to achieve Chest Pain v5 Accreditation. The hospital is also recognized by U.S. News & World Report as a 2018-19 High Performing Hospital for Heart Failure. Trumbull's Cardiac Rehab Program is also the only certified program in the Mahoning Valley. For more information on Trumbull Regional's cardiac services visit trumbullregional.org/heart.