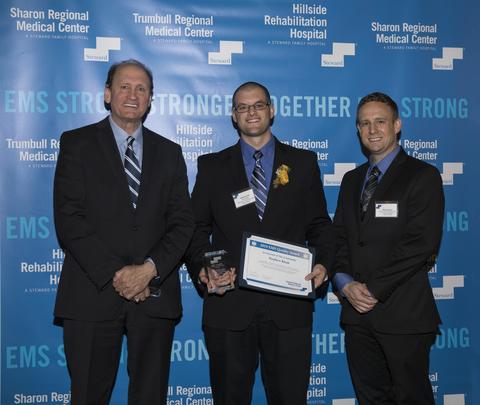 Stephen Kisak, a paramedic with the Champion Township Fire Dept., was honored with the Steward of the Community Award.  Hospital President Ron Bierman, left, and Matt Ozanich, Director of Pre-Hospital Care, presented him with the award at the 2nd annual "EMS Stewards of the Community" Awards ceremony on Wednesday, May 22. (Photo by jmt photography).
In celebration of National Emergency Medical Service (EMS) week, May 19-24th, Trumbull Regional Medical Center and Sharon Regional Medical Center, part of Steward Health Care, hosted the "EMS Stewards of the Community" Awards Ceremony on May 22th at Tiffany's Event Center located in Brookfield, Ohio. The Steward organizations combined forces to recognize 19 select EMS providers for going "above and beyond" in their interactions with patients.
"Too often under-appreciated, these heroic men and women are a vital partner in the delivery of health care in our valley, said Ron Bierman, President of Trumbull Regional Medical Center. "This is an opportunity to recognize their outstanding contributions to the community and the compassionate care they provide daily. In our most vulnerable times we can rest assured that quality emergency care is just a call away," said Bierman.
The "EMS Stewards of the Community" awards show appreciation for emergency medical responders, emergency medical technicians and advanced emergency medical technicians, and paramedics who not only carry out the noble work of caring for others, but do so with a high degree of expertise, professionalism, and compassion. An internal committee of physicians, employees and EMS directors selected recipients based on identified criteria among current providers in communities in Trumbull and Mahoning Counties in Ohio and Mercer County in Pennsylvania.
The event also featured key note speaker, Joseph Mistovich, M.Ed., NRP, who has served for the past 23 years as the Chairperson and Associate Professor in the Department of Health Professions at Youngstown State University in Youngstown, Ohio.  He has more than thirty-six years of experience as an educator in emergency medical services and multidisciplinary health care. In addition, he has authored fifteen EMS textbooks and more than fifty EMS journal articles and is a frequent speaker at state and national EMS conferences. He spoke to the group of around 130 people about his personal experiences in EMS and included ten important things to share with current EMS providers.
Awards were presented in six categories to the following individuals:
• Steward of the Community Award:  Stephen Kisak, Paramedic, Champion Township Fire Department
• STEMI Care: 
o Kara Shaver, Paramedic, EMT
o Zachary Bernstein, Emergency Medical Technician, EMT
• Trauma Care: 
o Matthew Gordon, Paramedic, Vienna Fire Department
o Haley Martin, Emergency Medical Technician, Vienna Fire Department
o Daniel Jamison, Emergency Medical Technician, Vienna Fire Department
o Michael Hagood, Emergency Medical Technician, Vienna Fire Department
• Professional of the Year:  Thomas Lambert, Chief Operations Officer, Lane Lifetrans
• Lifetime Achievement Award:  the late Shawn Bryant, PennCare Medical Products
• Life Saving Award:
o Shawn Whitehouse, Paramedic, Lane Lifetrans.