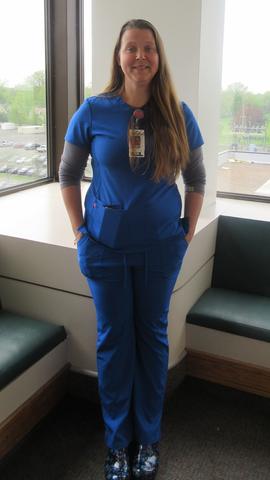 Staff Spotlight
Meet Amy Garretson, RN
Amy Garretson entered the nursing field with one goal: to make a difference in people's lives. She is accomplishing that goal.
When it comes to patient care, Garretson's name comes up often at Trumbull Regional Medical Center.  Her attention to patient needs as well as her kindness is recognized by patients and staff.  A nurse for 14-months on 6E, Garretson credits listening as a major reason for her success.
"Being in the hospital can be scary. I always take the time to truly listen to each patient. Patients want to be heard, and I make it a point to make sure that happens every day," she said. "I have patients thank me all the time for listening. It sounds simple, but it makes such an impact."
Garretson knows first-hand the frustration of not being heard, as she witnessed her 94-year-old grandfather struggle with doctors to get a clear definition of what was occurring with his ailing wife.
"In that situation, information was being explained in medical terms that my grandfather would have no way of understanding. I used this experience as a tool to always speak to patients in a way that they, along with family and friends, can clearly understand what is happening," Garretson said. "When I see a patient, I treat them as if they are my family."
After earning an associate degree in nursing from Fortis College, she is now set to begin her pursuit of a bachelor's degree in nursing at Ohio University (online program). Her experience at Trumbull Regional has been educational as well.
"I've learned so much in my short time here; the staff is wonderful, always willing to help out and just make it a great atmosphere to be a part of," she said.
In celebration of Nurses Week, we thank you, Amy, for embodying Trumbull Regional's goal of providing superior, compassionate care.