COVID-19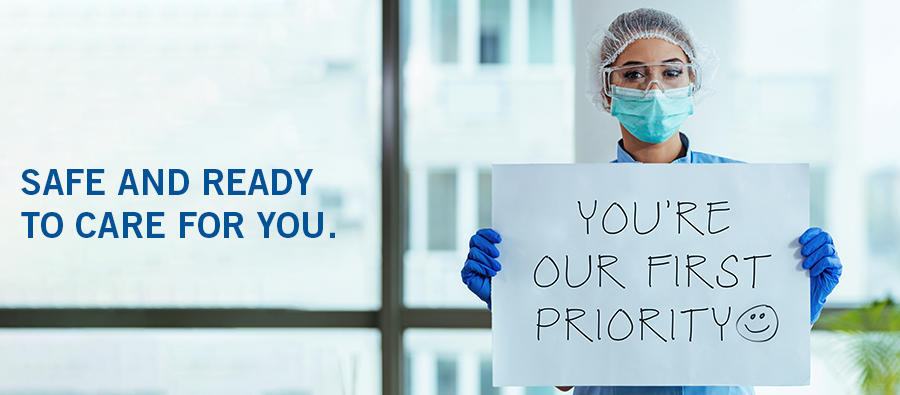 At Trumbull Regional Medical Center, we're taking precautions to make sure our hospital is clean, safe and ready for your next visit.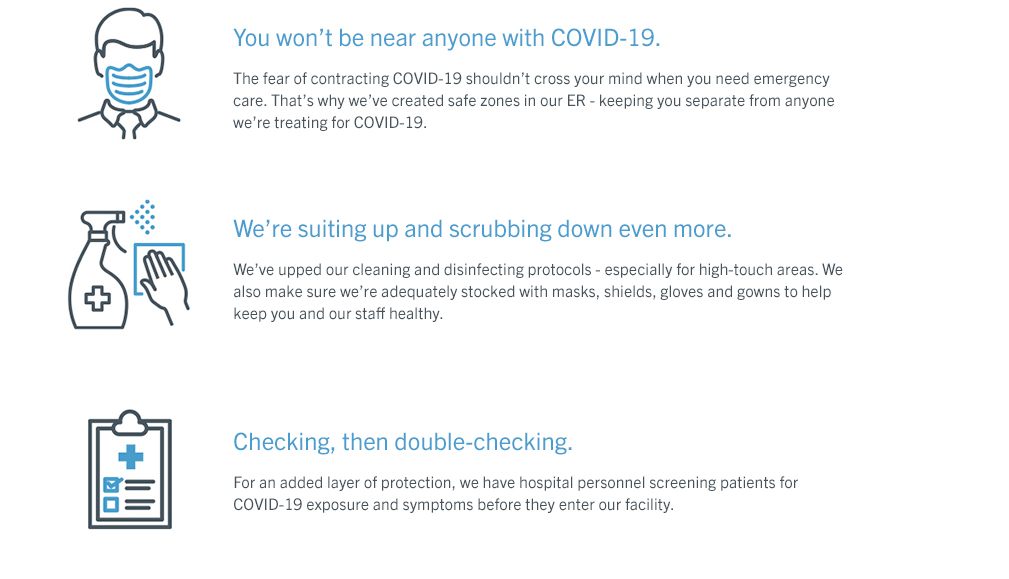 Your health and safety are our top priority.
Hospital Announcements
Our clinics are open, elective procedures are being scheduled, and our emergency rooms continue to be a safe place to treat ALL emergencies. From serious conditions to aches and pains, your health care needs didn't stop. We know this. And now it's time to get you and your family the advanced medical care you need.
Trumbull Regional Medical Center is taking additional, necessary preparations to ensure patients can receive compassionate care in a safe, carefully managed environment – with confidence and without fear.
Our Safe and Ready program consists of a rigorous five-point standard ensuring patient safety, confidence and convenience:
Expanded hours will allow previously cancelled procedures to be scheduled as quickly as possible.
Any COVID-19 related care takes place in designated areas away from other patients and their families.
Emergency Departments are reorganized to be a safe place to treat all emergency patients.
A stringent cleaning policy has been implemented throughout the hospital.
A strictly controlled visitor and masking policy is required for patient safety.
You can rest assured that we have made the necessary preparations to care for you in a safe, controlled and professional way.
We're here, and we're ready to provide the care you need.
Trumbull Regional Medical Center continues to monitor the national and global situation of coronavirus disease 2019 (COVID-19) and is prepared to support our community and safely care for any ill patient. Out of an abundance of caution, we have activated hospital preparedness protocols to:
Prevent the spread of respiratory diseases, including COVID-19, within the facility.
Maintain the health and wellbeing of our employees.
Promptly identify and isolate patients with possible COVID-19 and inform the correct facility staff and public health authorities.
Care for patients with confirmed or suspected COVID-19 as part of routine operations and potentially care for a larger number of patients in case of an escalating outbreak.
 
Visitor Restrictions
Updated Visitor Restrictions In Effect During COVID-19 Pandemic
Our top priority is always the safety and well-being of our patients, visitors and employees.
As we continue to monitor the developing coronavirus situation, we are revising our visitation policy to protect our community against the spread of respiratory illness, including COVID-19. The following visitor restrictions are in effect.
We are allowing 1 visitor per patient at this time. 
For Behavioral Health Departments and for patients who are with suspected or active COVID-19 no visitors.
All Visitors Must:
Screen negative for COVID symptoms or risk factors by the screening questionnaire. 
Be 18 years of age or older.
Wear a face mask or covering at all times while in the facility.
Remain in the patient's room during the visit. 
 
Entering the Hospital:
All visitors and vendors entering the hospital must enter through the main entrance and be screened in the main lobby at the security desk. 
We ask for your understanding and cooperation in these extraordinary times. We're committed to protecting your health. Please help us to keep our communities safe.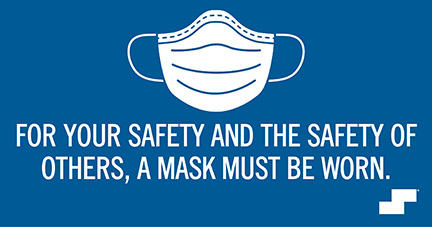 Everyone on Steward properties must have a mask on, including patients and visitors. This measure has been put in place for your protection, as well as the protection of patients and hospital staff. We ask for your understanding and appreciate your cooperation in our commitment to keeping our community safe.
All patients who enter the hospital through available access points will be screened immediately upon arrival. Points of entrance will be limited to:
ER Entrance 24/7 access
Main entrance 4:30 a.m.-7 p.m.
What to do if you're sick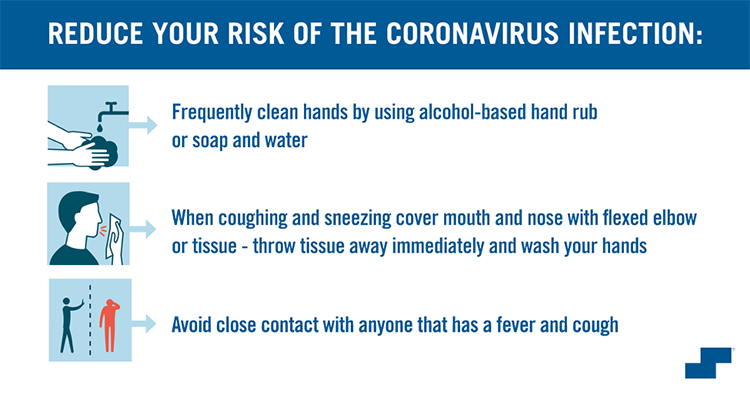 Stay home except to get medical care
Stay home: People who are mildly ill with COVID-19 are able to recover at home. Do not leave, except to get medical care. Do not visit public areas.
Stay in touch with your doctor. Call before you get medical care. Be sure to get care if you feel worse or you think it is an emergency.
Avoid public transportation: Avoid using public transportation, ride-sharing, or taxis.
Social Distancing
As much as possible, you should stay in a specific "sick room" and away from other people in your home. Use a separate bathroom, if available.
Limit contact with pets & animals: You should restrict contact with pets and other animals, just like you would around other people.
Although there have not been reports of pets or other animals becoming sick with COVID-19, it is still recommended that people with the virus limit contact with animals until more information is known.
Call Ahead before visiting your doctor
Call ahead: If you have a medical appointment, call your doctor's office or emergency department, and tell them you have or may have COVID-19. This will help the office protect themselves and other patients.
Monitor your symptoms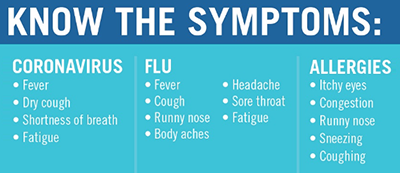 Seek medical attention, but call first: Seek medical care right away if your illness is worsening (for example, if you have difficulty breathing).
Call your doctor before going in: Before going to the doctor's office or emergency room, call ahead and tell them your symptoms. They will tell you what to do.
Medical Supplies Donations
At Trumbull Regional Medical Center, we are humbled by the generosity of all who have inquired about donating medical supplies to support our staff and patients during the COVID-19 outbreak. Our medical supply chain team has worked diligently to procure necessary Personal Protective Equipment (PPE) for our health care workers who are on the front line. As COVID-19 continues to spread, and with the increased global shortage of supplies, Hillside is now gratefully accepting donations of needed supplies.
Donations must be in unopened, original packaging and in accordance with approved hospital standards.
Donations can be delivered:
By Mail to: Trumbull Regional Medical Center
(Attention to Materials Management)
1350 E. Market Street
Warren, OH 44482
In person (with scheduled delivery)
Please do not drop off. To schedule a drop off time/location, contact Ronald Gore at 330-841-9740 or by emailing at

[email protected]

.