Diabetes Care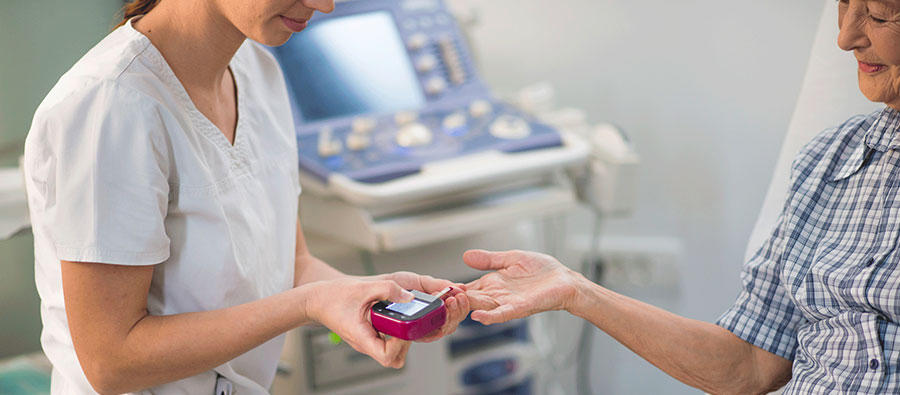 We are here to help you find what you need.
Diabetes affects more than 25 million Americans, and is a major cause of heart attack and stroke.
We provide diabetes care and education through a range of services:
Assessments to determine individual needs

Blood-sugar testing

Individual training for insulin pumps and continuous glucose monitoring

Nutritional counseling, including meal planning and weight management assistance

Health resources and strategies for successful living with diabetes for people recently diagnosed, with a recent treatment change or with difficulty following a present plan of care

Outpatient care classes

Wound healing services
Diabetes Education at Trumbull Regional Medical Center 
Diabetes Education is an outpatient program targeting adults and children with prediabetes, type 1, type 2 or gestational diabetes and their family members or caregivers.
Diabetes Education offers outpatient group classes. A physician referral and registration are required for these classes. Most insurance companies cover the costs, but you should check with your insurance company before enrolling.
Classes are held in the Diabetes Education classroom at Trumbull Regional Medical Center on:
Mondays from 2-3 p.m.

Tuesdays from 2-3 p.m.

Wednesdays from 1:30-3 p.m.

Thursdays from 1:30-3 p.m.
There are evening classes held quarterly Monday through Thursday:
Mondays from 6-7 p.m.

Tuesdays from 6-7 p.m.

Wednesdays from 6-7:30 p.m.

Thursdays from 6-7:30 p.m.
Please call for evening dates.
Individual sessions are also offered, Monday through Friday, with a physician referral. Registration is required for the individual sessions.
To register for the classes or for more information, call Diabetes Education at 330-841-9689.